La Belle Ancienne
Expeditions
A few ideas...

Just down the road from Assignan, St Jean de-Minervois is home to the famous white Muscat wine. A bit further on you'll find in the Minervois region some of the region's nicest restaurants - which you might visit after a refreshing swim in the river Cesse. Minerve hosts excellent red wines as well as bloody history - visible in a ruined 13th century fortress. The Canal du Midi, a colossal seventeenth century achievement of 15 years in the making, linking the Atlantic Ocean to the Mediterranean Sea, is a haven for boating enthusiasts, cyclists, joggers and walkers alike. Canoe or kayak down the river Orb through Cessenon or Roquebrun and onwards, for some spectacular scenery - or just wade in one of its many deep river pools.

A little further off the map (see regional map) are Béziers and Narbonne, both steeped in history and certainly worth a visit. Béziers (below) encompasses a medieval village built in a circular shape around a little hill with its castle looking down on it.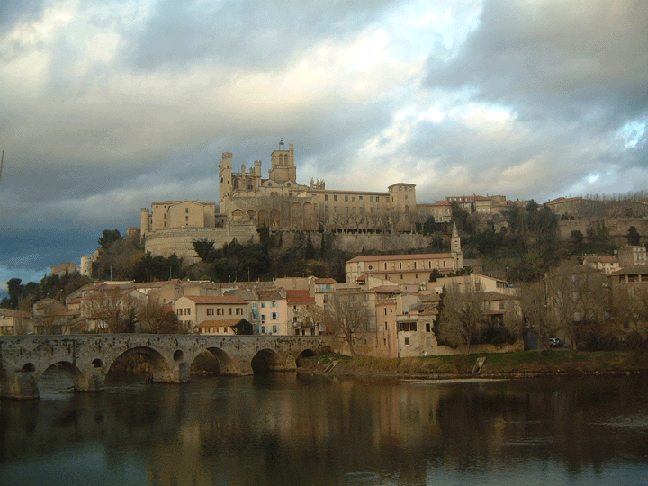 "The winding streets and monuments of the old city of Béziers are witness to its turbulent past. Béziers, the Roman colony, Béziers, marked by the scars of the Cathar tragedy, Béziers, the rich wine capital - these are just a few of the faces that you will discover in the historical neighbourhoods with their wide avenues," - Bureau du Tourisme
40 minutes from Assignan and you could swim in the Mediterranean or sunbathe on one of its sandy beaches. Discover Carcassonne's medieval city - an immense fortress containing 52 towers and two rings of town walls. If you want to venture out a tad more, you won't be disappointed in Perpignan near the Spanish border or in Montpellier, the capital of the Languedoc and well-known university town. And if you are in a metropolitan vein, a few hours away, Toulouse or Barcelona may entice you.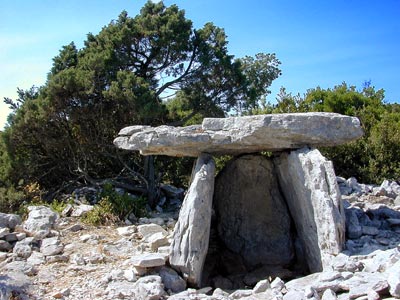 Whatever your bend, as you wind through the area, you'll come upon pre-historic and roman ruins, abbeys, caves, dolmens, and other ancient archeological sites, as well as lakes, gorges and beautiful scenery. Horseriding, fishing, rock climbing, archery, biking, golfing - you name it and you are likely to find it nearby.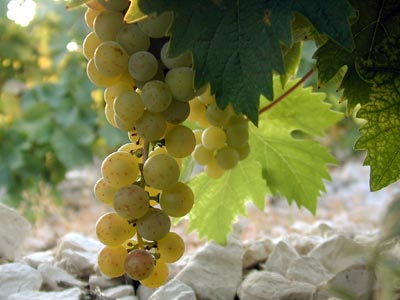 And don't forget some wine tasting! The Languedoc-Roussillon area boasts superb wine; a few vignerons are even within a stonethrow from La Belle Ancienne; their wines include organic and bio-dynamic varieties. Before long, you might find yourself on the roof terrace with that glass - surrendering to the Mediterranean view that 'tomorrow is another day'.
Home
Living/Dining/Kitchen
Bedrooms
Roof Terrace
Utilities and Facilities
How to Get There
Surroundings
Expeditions
History of the Area
Prices/Availability/Reviews
Videos and Slideshows
News
Dolmen and grape photos courtesy of Manuel Forte
Fleeting Echoes Ltd. Productions
© Copyright 2004-2023